Release date
11 October 2022
Author
CIFA
Category
Updates
Share to
Back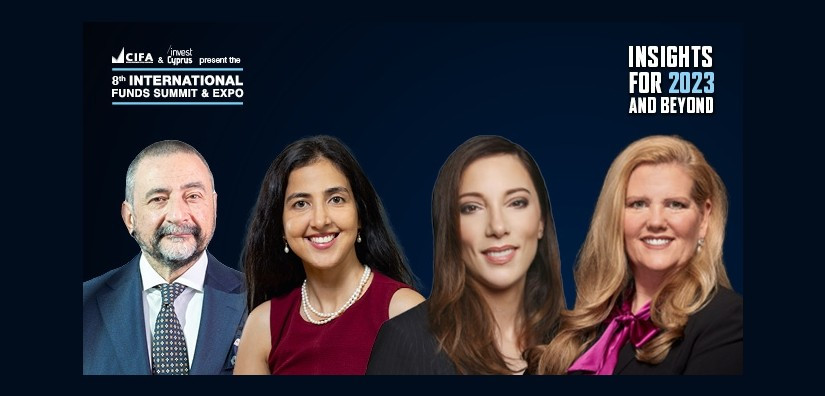 8th International Funds Summit & Expo: Insights for 2023 and beyond
Cyprus Investment Funds Association (CIFA), Invest Cyprus and IMH present the 8th International Funds Summit & Expo on 7- 8 November 2022, at the Hilton Nicosia, Cyprus.
With a long history of hosting distinguished professionals from around the globe, this Summit has become the premier peer-to-peer event for investment funds professionals. Now in its 8th year, the Summit returns to bring together more than 500 leading fund specialists from across the world to discuss the evolving regulatory and competitive landscape in the global asset management sector, and engage in stimulating conversations with more than 35 leading speakers and experts.
Finance Minister Constantinos Petrides, the Chief Scientist for Research and Innovation of the Republic of Cyprus Dr. Nikolas Mastroyiannopoulos, and Evgenios Evgeniou Chairman of Invest Cyprus, will address the event.
Among this year's speakers are Thomas Tilley, Senior Economist at the European Fund and Asset Management Association (EFAMA), and Stéphane Janin, Co-Chair of the Asset Management and Investors Council of the International Capital Market Association (ICMA).
Thomas Tilley will share his expertise and insights into recent trends in the investment fund industry, with a special focus on the European investment fund industry. Certain characteristics of the Cypriot fund market will also be highlighted and given a European perspective.
Stéphane Janin will examine how the European Fund Management Industry can remain ahead of the curve, in the light of the new challenges European fund managers are currently facing.
The Global Leaders Perspective
One of this year's sessions (the 'Leader's Stage') will host world-class speakers and distinguished professionals from internationally renowned firms in the industry. Live on stage, they will share their insights into the latest global megatrends that are shaping the industry, discuss the future of asset management and suggest ways of taking advantage of the trends in revenue streams and thus safeguard investments.
Among this year's speakers are Giovanni Papini, CEO of Asset Management (Italia) SGR S.p.A, Managing Director and Head of Southern Europe at UBS Asset Management; Dr. Chandni Bahn, Head of Risk & Global Head of Quant Research and Model Risk at Morgan Stanley Investment Management; Katherine Rainwood, Managing director at Pemberton Asset Management Group; and Marie Dzanis, CEO of Global Investments, EVP and Head of Asset Management EMEA at Northern Trust Asset Management.
Giovanni Papini will explain that the future of asset management lies in an ecosystem of winning ideas, specialized solutions and integrated expertise to evolving in the competition. He will discuss how staying ahead brings tough choices and the means with which asset managers are able to stand out in the market and offer a unique client experience.
Dr. Chandni Bahn will focus on the future of data in asset management and explain why only those organisations which understand that connecting the dots is an existential necessity of the future, and invest in integrating teams and digitization, will be able to compete in the coming world of the sector.
Katherine Rainwood will reflect on how alternative asset managers are looking to retailisation as one of the latest trends in the fund industry, driven by the overall outperformance of private equity and a desire to widen their investor base. She will explain how this translates into practice, and elaborate on whether the retailisation of private funds can help the alternative asset management sector weather the gathering economic storm.
Marie Dzanis will assess the seminal events that inform what asset managers need to do to evolve a business. She will argue that adherence to ESG criteria is essential for clients who are seeking streamlined custom experience, authenticity and credibility. She will explain that the gamechanger in the industry lies within the power of utilizing the impact of generation for both client and employer.
The Summit is addressed to senior finance, investment professionals and asset managers in Cyprus, Europe, the Middle East, Asia, and the USA, who work in Investment Fund companies, Asset Management companies, Accounting, Audit and Tax Advisory firms, Investment Banks and other financial institutions, Private Equity firms, Venture Capital firms, Family Offices, Insurance companies, Pension Funds, Endowment Trusts and Sovereign Wealth Funds. (CIFA members and members of other supporting organisations are entitled to special discount rates.)
The Summit will be conducted in English and full participation at the Summit corresponds to 8 CPD units. For more information regarding the event, click here.
For online registrations, click here. 
Organisers: Cyprus Investment Funds Association (CIFA), Invest Cyprus (Cyprus Investment Promotion Agency)
Coordinator: IMH
Platinum Sponsor: RSM Cyprus
Gold Sponsors: Eurobank Cyprus, KPMG in Cyprus, Treppides Group of Companies
Silver Sponsors: ECOMMBX, GMM Global Money Managers Ltd., SYSTEMIC, Trident Trust Group, Vistra, PCS
Conference Experience Sponsor: Conferience
Under the Auspices of: H.E. Nicos Anastasiades, President of the Republic of Cyprus, Cyprus Securities and Exchange Commission (CySEC)
Supporters: Association of Chartered Certified Accountants (ACCA), Chartered Institute for Securities & Investment (CISI), Hedge Fund Association (HFA), Institute of Chartered Accountants in England and Wales (ICAEW), International Capital Market Association (ICMA), International Compliance Professionals Association (ICPA)
With the Support of: Association of Certified Fraud Examiners (ACFE), Association of Cyprus Banks (ACB), CFA Society Cyprus, Cyprus Fiduciary Association (CYFA), Cyprus Institute of Internal Auditors, Cyprus Integrity Forum (CIF), Institute of Certified Public Accountants of Cyprus (ICPAC)
Media Partners: Funds Europe, Savvy Investor, The Investor
Communication Sponsors: GOLD, IN Business
Join us for our Newsletter