Release date
06 July 2021
Category
Press Releases
Share to
Back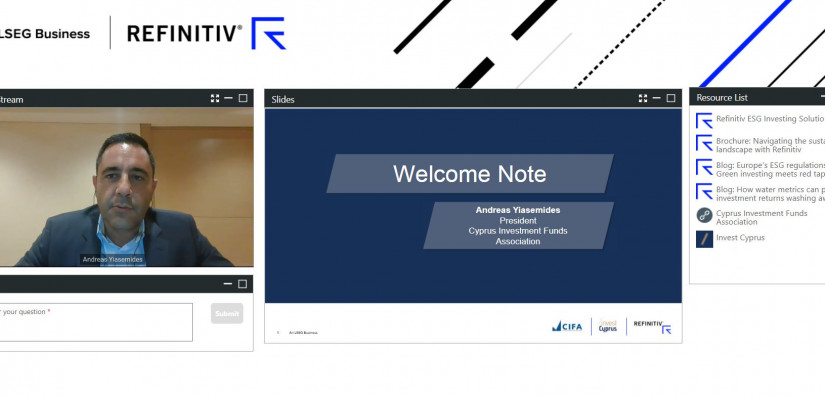 CIFA Workshop: The ESG phenomenon and how it affects the investment landscape
Refinitiv, CIFA and Invest Cyprus update the public in Cyprus and abroad about all recent developments
The new digital workshop organised by CIFA, Invest Cyprus and the international organisation Refinitiv, member of the London Stock Exchange Group, was another resounding success. The free digital event, attended by more than 200 delegates from Cyprus and abroad, probed into the phenomenon of ESG (Environmental, Social, Governance), which can no longer be considered as a passing trend, but has rather formed a catalyst for investment decisions made by fund managers across the world. 
Elena Philipova, Refitiniv's Global Head of ESG, noted that sustainability and sustainable investments are now a prerequisite and, as she explained further, they are no longer just a matter that involves philanthropic and similar endeavors, but have transformed into a pillar of financial viability. While particular attention has been paid to ESG matters at a European level, in the past few years, Philipova also stressed that the amount of funds funneled toward sustainable investments remains relatively low and that there was still much to be done to this end.
George Theocharides, Vice-Chairman of the Cyprus Securities and Exchange Commission, speaking at the event, explained that the Commission gives particular emphasis to sustainable investment issues under the relevant European regulations, creating, among other things, a special section on their website. He noted that, although ESG investments currently are evidenced in low percentages, developments in Cyprus are moving towards the right direction.
Christophoros Soteriou, Associate Investment Funds Lawyer at Bonn Steichen & Partners in Luxembourg, drilled down into the details of how the country – an established European destination for Investment Funds – handles the increased demand for sustainable investments in order to become an attractive proposition for these types of funds.
CIFA's Senior Legal Advisor, Nicole Kallasides moderated a panel discussion over the different aspects of the ESG landscape in Cyprus, between Andras Matsas, Executive Director & Portfolio Manager of GMM Fund Management, Omeros Nishiotis, CEO & CIO of Fortified Capital Limited and Stephanie Panayi, Investment Promotion Officer & Head of Strategic Projects of Invest Cyprus.
CIFA President, Andreas Yiasemides, thanked the speakers for their detailed presentations and the delegates for the interest they have shown, remarking that the Association has placed high in its priorities the promotion of sustainable investments through Investment Funds. George Campanellas, CEO of Invest Cyprus and Vice-president of CIFA, stated that attracting funds for investments in new, innovative and sustainable projects in Cyprus is one of the key priorities of the organization's action plan.
Marios Tanousis, the Deputy Director-General of Invest Cyprus, who chaired the event, highlighted the increasing worldwide interest for investments that take into account ESG factors.
On the occasion, CIFA expresses its sincere appreciation and gratitude to the Refitiniv team for their excellent cooperation and the general interest they have shown for the Cyprus market of Investment Funds.
CIFA, in cooperation with Invest Cyprus, will continue to organize free digital workshops, aiming to educate its members, bring greater transparency and help the general public to have a better understanding of the Investment Funds sector.
Join us for our Newsletter