Release date
04 November 2022
Author
CIFA
Category
Press Releases
Share to
Back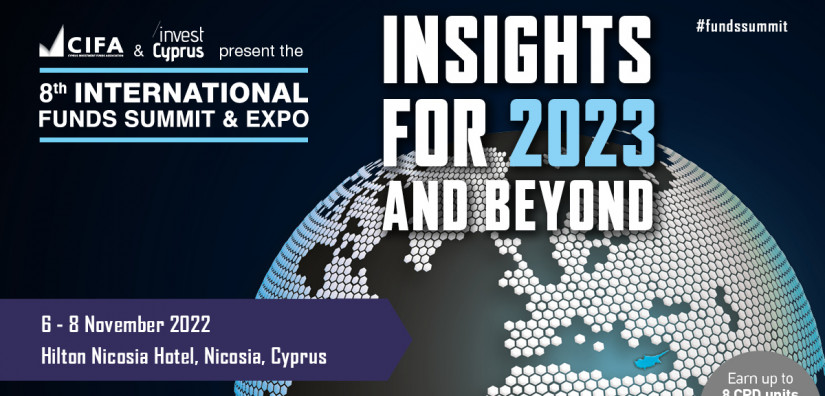 Cyprus Hosts International Investment Funds' Top-Tier Professionals
In the context of the 8th International Funds Summit & Expo, "Insights for 2023 and Beyond"
The leaders of the investment funds sector are preparing for the 8th International Funds Summit "Insights for 2023 and Beyond", turning the big spotlight to Cyprus.  The event will take place on November 7-8, 2022, at the Hilton Nicosia Hotel.
The summit is one of the most important conferences in the sector regionally, and gathers significant interest every year, allowing the participants to gain global insights on the latest developments and trends, concerning the management of collective investments.
The summit, which is organized every year by the Cyprus Investment Funds Association (CIFA) and Invest Cyprus, is expected to host once again this year executives of Investment Funds, organizations providing related services, supervisory authorities, and representatives from important European decision-making centres from over 30 countries. Moreover, international speakers will discuss topics such as investment trends, asset management challenges and opportunities, sustainable investments, regulatory compliance, and much more.
The International Funds Summit is already regarded as a point of reference for the investment funds sector in the wider region since it is noteworthy that most of the delegates are from abroad and recognize Cyprus as a dynamically growing destination.
The summit addresses managers of investment funds, investment managers, administrators and controllers of capitals and other assets, lawyers and legal advisers specializing in investment matters, accountants, auditors, tax professionals, professionals in the financial sector specializing in related matters, business consultants, and other professionals from the wider investment sector.
The summit will be welcomed by the Minister of Finance, Constantinos Petrides, and the Chairman of the Cyprus Securities and Exchange Commission, Dr George Theocharides. Presentations will be made among others by Thomas Tilley, Senior Economist of the European Fund and Asset Management Association (EFAMA), Stéphane Janin, Co-Chair of Asset Management and Investors Council, International Capital Market Association (ICMA), and Dr Nicolaos Mastroyiannopoulos, Chief Scientist of Research & Innovation and Chairman of the Board of Directors of Research & Innovation Foundation (RIF). In addition, executives from leading international organizations such as UBS, Morgan Stanley, Northern Trust, RSM, Kroll Advisory, JP Morgan, Mercer, and Generali will express their views on important topics of the asset management sector.
The conference is under the auspices of Η.Ε the President of the Republic of Cyprus and the Cyprus Securities and Exchange Commission (CySEC).
For more information on the Conference website www.cyprusfundssummit.com
Join us for our Newsletter