Release date
17 February 2023
Author
CIFA
Category
Updates
Share to
Back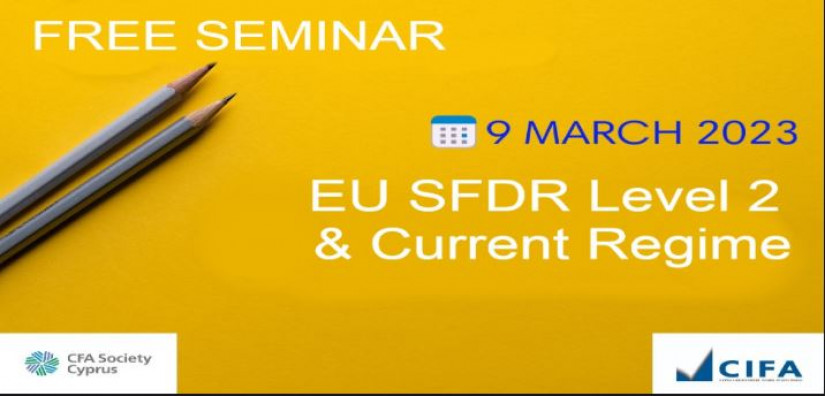 Free Seminar on EU SFDR Level 2 & Current Regime
CIFA in association with CFA Cyprus is organizing a members' only seminar on "EU SFDR Level 2 & Current regime" on Thursday March 9, 2023.
The seminar will take place at the European Institute of Management and Finance 25, Megaron 2032, Strovolos between 17:30 – 20:00 (including cocktail).
The agenda includes:
Andreas Yiasemides, President, CIFA (Welcoming Note)                          
Zenon Papaphilippou, CFA Vice President, CFA Society Cyprus
Josiane Kamerling, Head of Regulatory Outreach EMEA, CFA Institute
George Srour, Account Manager, MEA Refinitiv
Emilios Tannousis, CIFA HR & Training Committee (Closing remarks)
The Seminar is free of charge for our members. The availability for participation is limited and the seats will be assigned on first come first serve basis.
RSVP by Friday, 24 February at Magdalena.drakos@cifacyprus.org
Join us for our Newsletter