Release date
28 October 2023
Author
TEAM
Category
Press Releases
Share to
Back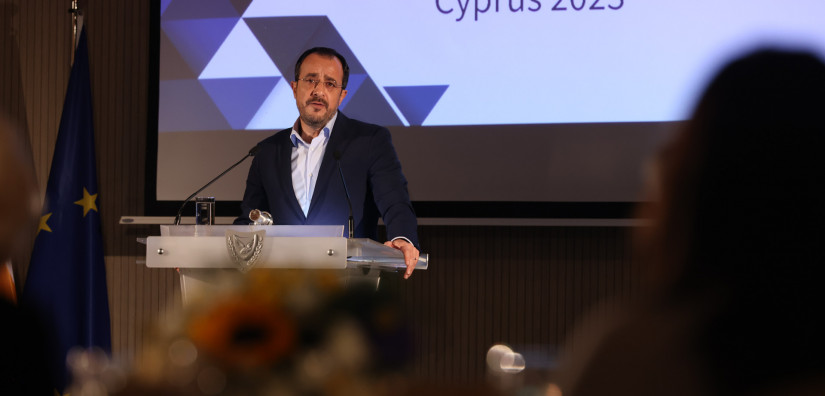 The address of the President of the Republic of Cyprus at the International Investment Funds Association Gala Dinner
Welcome to the Presidential Palace. It is with great pleasure that I address the International Investment Funds Association (IIFA) Gala Dinner. As it was mentioned before, very correctly, the IIFA stands as the largest association of investment funds professional bodies worldwide and, through its global outreach, plays a decisive role in communicating critical issues within the investment funds industry internationally.
Allow me also to congratulate Andreas and his team at the Cyprus Investment Funds Association (CIFA) for the organisation of these two very intensive days. CIFA, which has managed in a decade – if I remember correctly it was established in February 2013 – to be a main driver in changing the funds landscape in our country, in Cyprus. Always working in co-operation with the government and other stakeholders in formulating a regulatory framework that is robust and comprehensive vis-à-vis other countries and promoting Cyprus as an ideal hub for investment funds.
Dear friends,
Hosting the IIFA annual conference here in Cyprus for the first time is a testament to the importance of showcasing Cyprus as a global financial hub. As we gather here, we recognise the distinguished attendees present, representing the most significant professional bodies in the fund's industry worldwide. Collectively, your organisations manage trillions of dollars invested globally across various sectors, underscoring the significance of this gathering and the potential for invaluable networking and collaboration.
In recent years, as mentioned before by the president, we have witnessed positive developments in the strengthening of Cyprus's economic landscape, even in times of geopolitical turmoil like the current ones. Cyprus has not only weathered storms but I can say that it emerged stronger, positioning itself as a regional pillar of stability. Our country, the closest EU member state to the Middle East, with excellent relations with all its neighbours, is currently recognised as a stability contributor in the region; in the current crisis, in our neighbourhood, other nations are trusting Cyprus to move their civilians to safety. I can tell you that we have requests from almost 30 countries to use Cyprus in case they need to evacuate their citizens from the region.
Ladies and gentlemen,
Despite past challenges, the Cypriot economy has demonstrated resilience and recovery. Key economic indicators, such as the 2.3% GDP growth in the second quarter of 2023 and the reduced unemployment rate of 6.6% recorded in August, re-affirm the robust performance of our economy. Andreas mentioned before the upgrade of our economy and the reinstatement of the credit profile of our country by Moody's after 12 years, translating into prospects and opportunities through the attraction of quality investments and the creation of new jobs. We have followed this non-negotiable track as a Government during these seven months that we have been governing the country and will continue to shield our economy and intensify its dynamic course.
In this framework, in our efforts, the funds industry within Cyprus' financial services industry have experienced remarkable growth. In just a few years we've seen the assets under management grow from zero to more than 10 billion euros. The competitive advantage of our country as a funds' jurisdiction is evident – a robust regulatory framework, enticing tax incentives, comparatively low set-up and operational costs and exceptional human resources.
This growth in the funds sector has not only contributed substantially to our national economy but has also been a source of job creation, providing highly specialised and well-paid positions.
Ladies and gentlemen, dear friends,
My Government took office seven months ago. Despite the volatile geopolitical environment in Ukraine, and now in Israel and in Gaza, we are vigorously advancing the implementation of our ambitious Government Programme. The core principles underpinning the Governance Programme include placing people at the core, ensuring a sustainable and resilient economy, a modern, fair, participatory and transparent governance, and promoting green and digital transitions.
I want to stress that the Governance Programme fully aligns with "Vision 2035", the national strategy that aims to "transform Cyprus to be one of the world's best countries to live, work and do business in." Our commitment to its implementation is unequivocal, with many actions already being financed through Cyprus' "Recovery and Resilience Plan" with a timeframe of up to 2026.
The budget, our first budget, presented in Parliament yesterday, marks the inaugural one for my administration and outlines our key priorities. It is characterised by a robust fiscal surplus, underscores our dedication to fiscal responsibility and maintaining sound public finances. It incorporates several reforms and initiatives directly aligned with our Governance Programme.
In pursuing sustainable growth, we actively seek foreign direct investments and high-specialisation companies. The government has put in place incentives and measures to attract such investments, especially within the funds sector, reflecting our strong determination to foster a business-friendly and attractive environment, by upgrading its regulatory framework and eliminating unnecessary bureaucratic hurdles.
Please rest assured that our Government, the Cyprus Government, is fully committed to macroeconomic stability, through firstly fiscal responsibility, secondly a stable financial sector and thirdly continuous reforms.
Once again, let me welcome you to the Presidential Palace and let us enjoy the evening.
Join us for our Newsletter